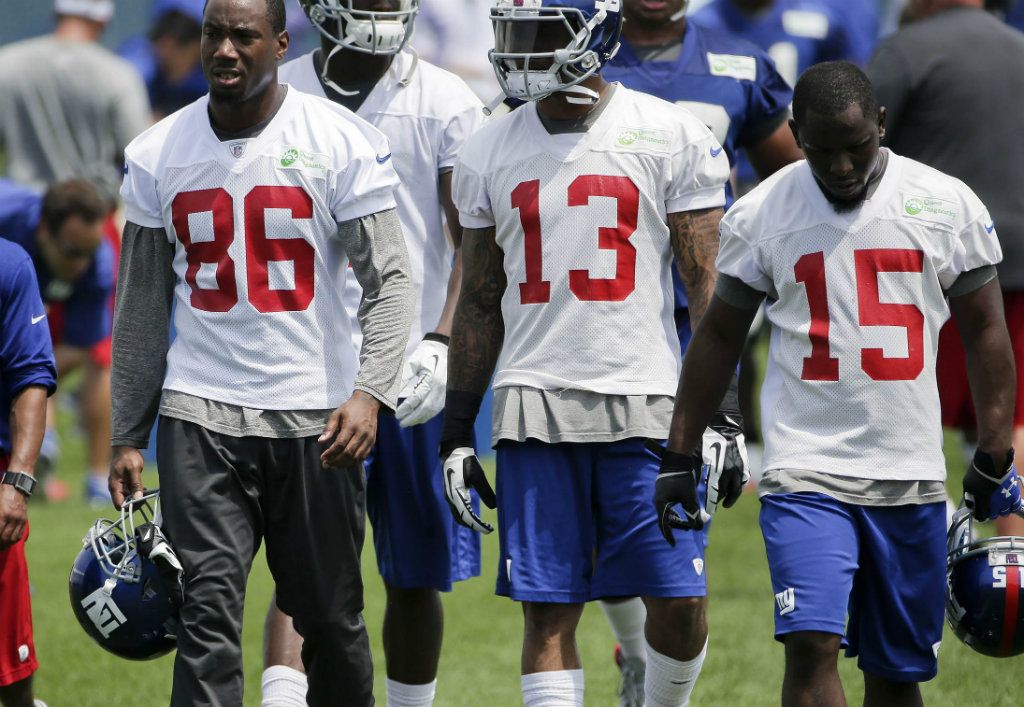 news /
08.12.2014
First-round pick Odell Beckham Jr. impresses in minimal drills
Odell Beckham Jr. participated in only a few reps in a minimal number of drills Monday, but it was enough to show the Giants what they have been missing.
The speedy first-round pick ran through individual drills that included ball security and some route-running. During one of those routes, a pass from Eli Manning seemed to be overthrown, but Beckham sprinted, caught up to it and made a one-handed grab.
Beckham, who missed the first three weeks with a hamstring injury suffered on the first day of training camp, did not do any team drills and sat out a drill in which receivers worked on releasing against cornerbacks.
"They said he did all right," Tom Coughlin said. "Maybe they can extend it a little bit Tuesday. I hope . . . He probably wasn't full speed [Monday] but he got out and did some things. I won't be able to ascertain until he does some team stuff."
Washington wows
With Beckham still mostly sidelined and receivers Victor Cruz (knee), Jerrel Jernigan (knee) and Marcus Harris (hip) also missing practice, rookie Corey Washington wound up playing with the starters. And he played well, catching a deep pass from Manning and making a leaping catch on a pass from Curtis Painter. Washington already has opened eyes with two game-winning touchdown catches in two preseason games.
"He's been one of those kids, you throw it up and he goes and gets it," Coughlin said after Monday's performance. "That was good."
Giant steps
Painter took second-team reps ahead of Ryan Nassib for the first time in camp, but Coughlin cautioned against reading into the order. "They'll work back and forth like that," he said. "I've never put them in any order for you and I won't do that now, either." . . . Rookie RB Kendall Gaskins on why he practiced with an injured thumb last week: "I've got plenty of fingers. I might only have one opportunity." . . . About midway through the preseason, Coughlin was asked if the new offense is on pace to be ready for the opener. "The installation part is, the execution is not," he said. "Hopefully, we can improve that."
By | Tom Rock